Spotlight on Business: Blackville Trio Pizza
/
Posted on: June 18, 2018
/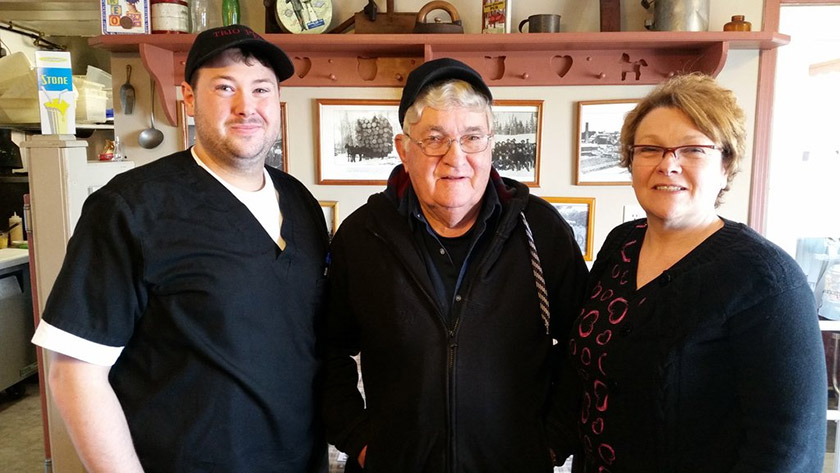 Nestled just off Route 8 in Blackville, Trio Pizza has been a place where residents have been able to grab a slice of pizza since 1990.
Now almost 28 years later, what initially was take out with pizza only, the place has grown into a restaurant with more than just pizza, thanks to support from the community and three generations of family tradition.
Lewis Donahue purchased the building on Nov. 26, 1990, located at 4 Shaffer Lane in Blackville, and still owns the building today with help from his daughter Wendy Sturgeon and grandson Chris Sturgeon who manage the restaurant.
"There was an opportunity, I guess and I bought the [Trio Pizza] franchise," Donahue said.
Wendy has been working in restaurants since she was 16 years old and wanted to take part in the day-to-day operations of a business.
"There are only a couple of Trio Pizza's left in the province," Wendy said. "We saw different people come in and it broadens your clientele because we offer a little bit of everything. We've met a lot of fantastic people over the years."
At first, all they offered was pizza. A few years later they brought fish and chips, burgers, ice cream, poutine, as well as their signature pizza to the menu.
"It was a good move to branch out and get different things in," Chris said, who pointed out that their three most popular items on the menu are pizza, fish and chips, and the Trio Burger.
Initially, Trio Pizza was just a take out, but Donahue added a dining room in 1994 and a second dining room area a few years later.
After nearly three decades, why does the community enjoy Trio Pizza so much?
"Hopefully it's because it's good food and the good personalities," Wendy said with a laugh. "We try to keep it very personal and all home cooking."
Since the beginning, the community and the surrounding areas have supported the business. They also get a lot of sports teams in the spring and summer who stop by for something to eat and with the restaurant close to the river and the ATV trail, they draw people who are enjoying the outdoors.
"We like to be involved in the community and we support local skating and events that go on at the school, fundraisers and we take part in a lot of those," Wendy said.
"There's no benefit that goes on in the community that doesn't have a gift certificate tagged through here and we try to support the community as much as they support us," Chris said.
The restaurant can seat approximately 35 people and they have 11 staff members.
"[Customers] know who the cooks are, they know who the people are who are working in the back, it's pretty laid back," Chris said. "We have a lot of regular customers who are here everyday, who come twice a day and really are like family to the business and we know their families well … it's more of an experience of trying to get to know people, rather than just getting something quick to eat."
The restaurant has also given employment to students during the summer time and almost all of Donahue's family has worked at the restaurant at one time or another.
A valuable way to learn the benefits of a hard earned dollar, which Chris learned at a young age.
While in Trio Pizza, one can expect to be taken on a tour of its history, as the restaurant is full of old photos of Blackville that date back as far as the early 1900s, thanks to Donahue's collection of photos he's been able to assemble over the years.
Often times, people will take their orders and wander around the restaurant looking at the old photos.
Close to 20 years ago, Wendy said she was waiting on an older couple who were dining at the restaurant and noticed a picture of three kids and their father in a Model-T car in front of their family home.
"The woman was crying and I asked if something was wrong. They asked me where I got the photo and I said it was given to my dad. She said to me, "do you see this little girl? That's me.' It was a picture of her and her dad and her brothers."
The woman's family owned the Ross Windows and Doors factory, which was in the village up until 1971, where it was taken down and restored at Kings's Landing, outside of Fredericton.
"The last time she would have been in Blackville was 1971 because she was living in British Columbia … She had never seen this picture, she said it was probably in the house. They just happened to be driving through on their way to Miramichi and they stopped in here," Wendy said. "It's just little things like that."
Original Source: Jeremy Trevors, Miramichi Leader March 15, 2017